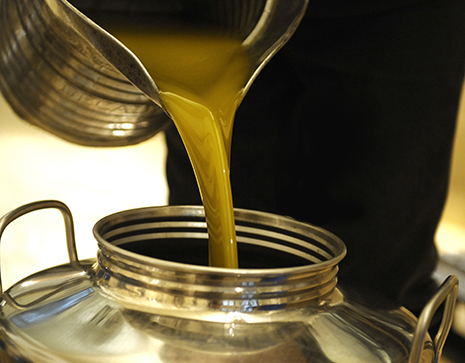 Preservation method
It is imperative to keep the olive oil away from heat, air and light. Check that the can is closed, because the olive oil is porous and will absorb odors. Below 13 °C the olive oil solidifies. Nevertheless, when it freezes, just put the olive oil at room temperature to restore its golden robe. Because olive oil is a living product, it should not be overlooked its preservation and comply with the prescriptions indicated on the bottle. Olive oil is not subject to a cut-off date (DLC), but at an optimum use-by date (SAR), it is actually a manufacturer's advice to assess the product under the best conditions Of tasting. If you have exceeded the date indicated on the bottle, the only problem it can provide is a degradation of the taste. Either a disappearance of flavors or a significant taste change (rancidity ...). Olive oil is not quite like a wine, it does not improve on aging. It all depends on the type of olive used, the extraction technique and the method of conservation. Some of our great wines have remained in cellars for more than 25 years ...
Can or Bottle for olive oil ?
Obviously, our house being a forerunner in the use of olive oil in metal cans, we can not advise you too much. Three main advantages for this packaging:
The oil is protected from the light (for an optimum conservation)
The can is less heavier (around 300g less per liters)
The can is unbreakable. If you had the bad experience to drop an olive oil, you will understand the importance of the can. Indeed, it is extremely difficult to clean even if only 1/2 liter of olive oil. Oil extend itself quickly does not absorb itself easily. We either need kilometers of paper towel or sawdust to get throught it.
If you are still attracted by the bottle, prefer an opaque bottle or store your olive oil in a closet.